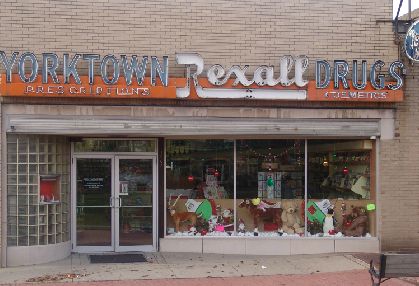 Yorktown Pharmacy stands at the same intersection that it did when Anthony and Thelma Cecere opened the business in 1930. The store was originally located just across the street (where Mitchells Hardware now stands). It was there that "Doc" Cecere filled an average of 10 - 15 prescriptions a day, as well as orders for soda and ice cream at the soda fountain. This small business served as a meeting and greeting place for our little farming community.
In 1946, the business was moved to its present location on the site of the original St. Peters Catholic church. The 60s lost the soda fountain to make way for the new needs of a growing community, including a high-volume, state of the art prescription department. It also brought the next generation of Ceceres into the store as Bob and Betty returned to NY after Bob's time in the service was done.
The following decades brought additional family members into the store and the continued growth of the community. The family was proud to have never closed its doors for a full day, nor has any emergency request ever been denied.
In 2003, the Cecere family bowed out and transferred ownership and the care of the people of this town to Rajender Venkat. With Raj came the newest innovations that took this store to a new level of technology. The pharmacy continues to give the highest quality service to area residents with the same caring and compassion that has been our tradition since 1930.